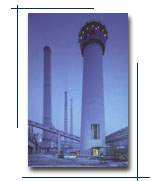 Chimneys are furnished with a variety of protective liners in a broad variability of materials suitably chosen to meet the operation conditions. The liners are delivered as ceramic (fireclay) ones conforming to S4 type of DIN 1057.

Shaped bricks are laid in domestic and imported mortars. More over we are able to supply either stainless steel liners or liners made of carbon steel with further possible coating treatment.

The chimneys can be built as single- or multiple-flue ones, with set-back liner and ventilated interspace. When considering the technical solution and selecting type and chimney dimensions optimalization is made respecting all technical and economical criteria.


Chimney revisions:  
Together with chimney revision we offer all services that might be used for assessment of current stage of chimneys (concrete stacks) and for determination of existing chimney live time:
- executing of physical chimney revision proper,   
- taking of samples including chemical and physical analysis and their interpretation, taking of samples of concrete by means of core boring, taking of samples of steel reiforcement in order to determine the progress of corrosion and for tensile test eventually,                        
- executing of colour photodocumentation,
- revision of wiring of lighting and aircraft warning systems including revision reports,
videorecording of outer stack surface and of chimney interspace (videorecording in VHS system and its scope will be specified by mutual stipulation), videorecording of inner surface of the chimney liner,
- monitoring of chimney surface by thermovision,
- geodetic survey of chimney to determine its verticality,
- long-term monitoring of composition and other parameters of waste gases through sensing probes

- 1 week monitoring of chemical and physical properties of waste gases in chimney
Chimney repairs:
Chimney repairs comprise both small maintenance repairs (equipment painting, small outfit repairs etc.) and general overhauls in connection with transition of chimney to exhaust natural gas combustion products or waste gases after desulphurization by wet calcite washing. For repairs of chimney liners our company uses time-tested technology together with introducing new advanced procedures. Recently our company has the best experience with the guniting of chimney liners, which considerably cuts the repair price and more over reduces the repair time. Chimneys, where this technology was used a couple of years ago, are in perfect operation conditions so far.
Technical advisory services:
In accord with client´s requirements the company will elaborate all technical solutions necessary for chimney remodelling and chimney repairs in connection with transition to new fuel type or to desulphurization of waste gases and for current repairs eventually.
Our offers are as follows:   - technological calculations of flue gases and determination of course of their pressure in chimney,
- design works at any scope,
- scattering studies,
-revisions of eletrical wiring (lighting and aircraft warning systems),
- forensic expert opinions,
- price quotations and calculation,
- chimney revisions.